THE OFFICIAL WEBSITE FOR THE 1970'S TV SERIES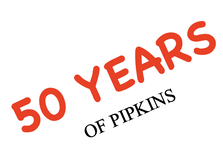 Pipkins first transmitted 50 years ago this year.
A note from Nigel to those who responded to his request
We've tried in vain to recommission Pipkins. We were in talks with ITV for nearly a year and they were keen but unfortunately issues of the rights proved too difficult to solve and we've had to step away. ATV - the original producers - had been sold so many times over the last 35 years and bits of the company sold off that it was too difficult to trace the rights
to Pipkins.
Thanks to those of you who wrote to me.
​Susan Pleat, Gail Renard and I have got together with Paul Jomain and Robert Taylor to create a new series now on CBeebies and the BBC iPlayer - 'Monty & Co'. Click
here
for info.
Nigel Plaskitt
Thanks to Greg Taylor who compiled much of the information on this site
​
This site © copyright 2022 Nigel Plaskitt